Cyber Insekt
Lyrics
Film of film on book-rack
Book of film
Book on station track (1)
Cyber Insekt

Cyber Insekt Cyber Insekt
Yellow moth fly (2)
Cyber Insekt

On rack

Cyber Insekt Cyber Insekt
Yellow moth fly
Cyber Insekt

Come on back

Film of book
Film book-rack
Book of film
Book on station rack

Cyber Insekt Cyber Insekt
Yellow moth fly
Cyber Insekt

On rack

Cyber Insekt Cyber Insekt
Yellow moth fly
Cyber Insekt

Come on back

Purple in its glowingness
Golden roasting in its duly knowing

Book of film
Book on station track
Film of book with soundtrack

Cyber Insekt Cyber Insekt
Yellow moth fly
Cyber Insekt

On rack

Cyber Insekt Cyber Insekt
Yellow moth fly
Cyber Insekt

Come on back

Cyber Insekt
In its enscarpment
Burning over all planes and trains

Cyber Insekt Cyber Insekt
Yellow moth fly
Cyber Insekt

Station clack

Cyber Insekt Cyber Insekt
Yellow moth fly
Cyber Insekt

Bring on station track

Cyber Insekt Cyber Insekt
Yellow moth fly
Cyber Insekt

Station clack

Cyber Insekt Cyber Insekt
Yellow moth fly
Cyber Insekt

Break on station track
Notes
1. According to Julia Nagle, the song was written in the aftermath of the notorious onstage incident in New York City when MES brawled with Karl Burns and the whole band (Nagle excepted) wound up quitting: "'The song Cyber Insekt, is about that time in New York in 1998. We (our lawyer. Mark and myself) said the whole incident had been incredulous [sic], and we should write a book about it. And being in America, we then laughed about making the "film of the book, of the film" etc, which in turn became the lyrics, if that makes any sense.' And on the preview of the album, Nagle says it's 'about the virtual world of communication. There was a plan behind this: to work it live, rather than program it. It's bubbly.'" (Fallnet)
The song is often assumed to refer to a paperback on sale at a train station, which seems plausible.
On the version from the DVD The Fall--A Touch Sensitive: Live MES sings "Book of train, train of book."
From MO: "I wonder if the 'book on station rack' that catches MES's attention here could be Silence of the Lambs? A book made into a film that then had multiple film-related reprints widely available in all good station bookshops... The movie tie in editions featured the iconic image of the yellow deaths head moth in Clarice's mouth. And of course, given The Fall's presence on the soundtrack of the film, might make sense that his eye would be drawn toward it."
Crimm suggests the book may be The State of the Art by Iain M. Banks, the cover of which features what does indeed look like a cyber insect: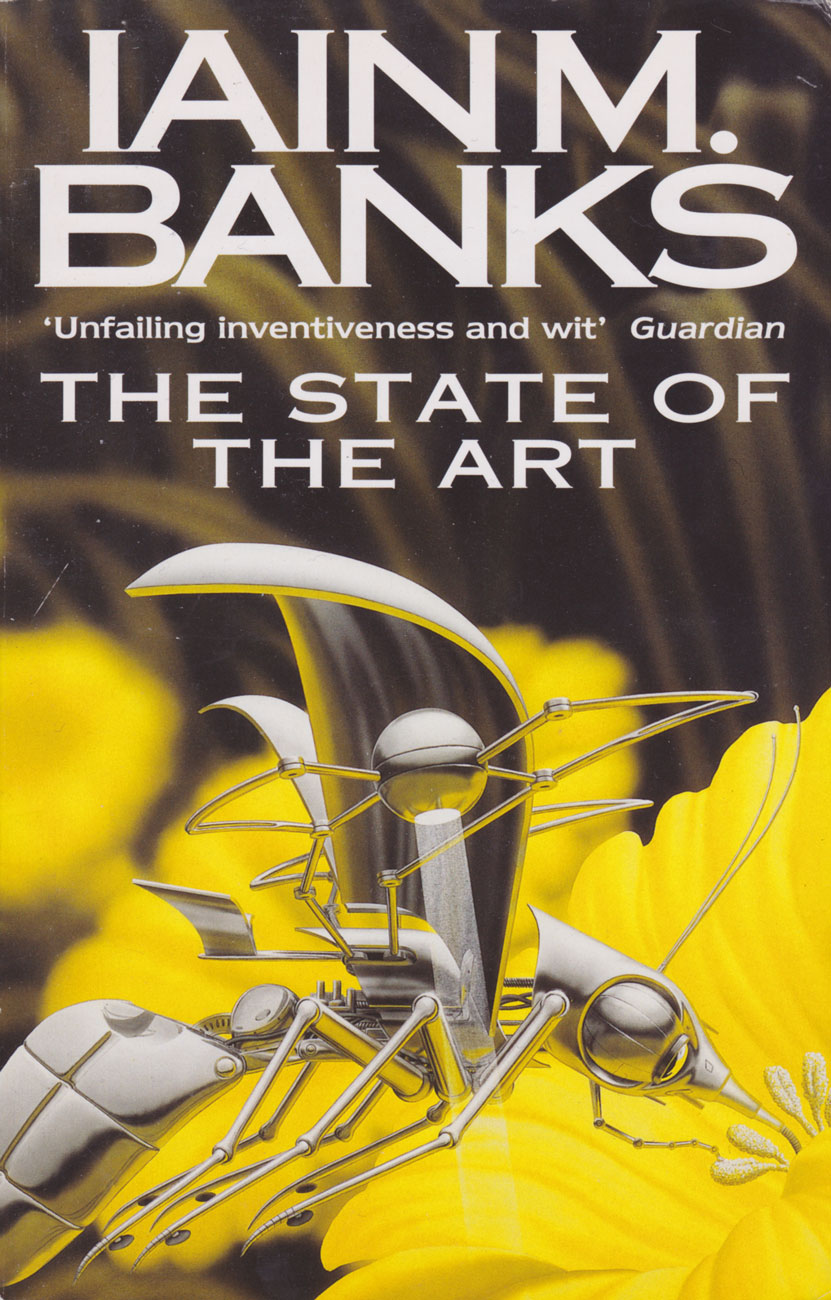 Leosfi points out that the drum pattern is copied from Sweet's "Ballroom Blitz."
2. Backing vocals on the chorus are by Julia Nagle and guest Kazuko Hohki from the Frank Chickens. On the rough mix, Nagle sings alone and the lyric is clearly "yellow moth fly," as given above. On the album, however, there seems to be an extra syllable on the chorus--perhaps "yellow metal fly," in any case that gives the cadence, but its hard to make out. Nagle told me via email that "yellow moth fly" is correct, but it's possible that Hohki said something different, or added a nonsense syllable such as "yellow moth-a fly."